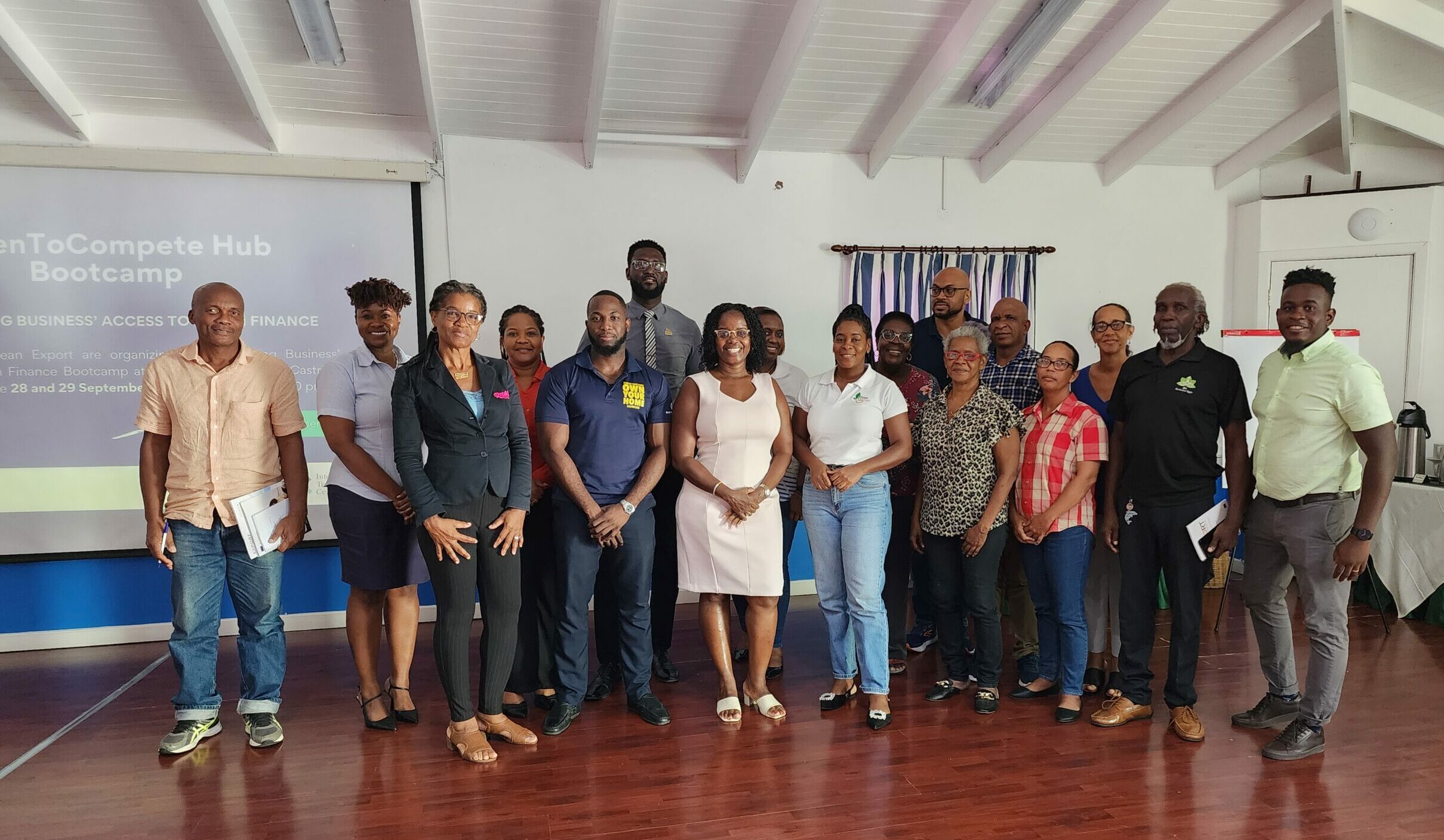 ITC and the Caribbean Export Development Agency (CEDA), in collaboration with Export Saint Lucia, successfully organized the 'Access to Green Finance' bootcamp on September 28th and 29th, 2023 in Castries, Saint Lucia. The event aimed to provide micro, small, and medium-sized enterprises (MSMEs) with essential knowledge and tools to access green finance opportunities in the region.
Led by Access to Finance consultant Mr. Christopher McGann, the two-day bootcamp featured interactive sessions and capacity-building workshops. On the first day, participants learned about the key components of an effective business model and the importance of adapting it to changing market dynamics. Noteworthy presentations were delivered by the Saint Lucia Development Bank (SLDB) and the Ministry of Energy. The SLDB introduced the range of services available for MSMEs, while the Ministry of Energy highlighted the cost-saving benefits of energy efficiency and renewable energy implementation.
The second day of the bootcamp focused on financing growth, with a deep dive into debt instruments and equity financing options. A panel discussion titled "The future is green – Financing green projects in Saint Lucia" provided participants with the opportunity to pose questions to representatives from Saint Lucian financial institutions. The panel included Bank of Saint Lucia, Capita Finance Services, Sagicor Finance Inc., and the Saint Lucia Development Bank (SLDB). Their insights helped participants gain a better understanding of the services offered and the requirements to access funds for green projects.
Speed dating and matchmaking
To gain greater insight into the institutional requirements for financing green projects as developed during the Voluntary Sustainability Standards (VSS) and Resource Efficiency & Circular Production (RECP) modules of the GTC Caribbean Hub Programme, participants were able to 'speed date' with the financial institutions providing green services and products as listed above, while also interacting with Export Saint Lucia to learn more about the support available from this business support organization.
Caribbean Investment Forum (CIF) 2023
The speed dating sessions offered MSMEs the opportunity to present their business ideas to potential financiers and investors within a condensed timeframe of 3-5 minutes. This experience served as preparation for similar pitch-type interactions that the two selected Saint Lucian MSMEs, part of the GTC Caribbean cohort attending CIF 2023, would encounter. Valuable feedback from participants and financiers was collected and used to enhance the formal pitch preparation training module, which took place from October 2nd to 18th, 2023. The training aimed to equip all participants with the skills needed to successfully present their businesses at CIF 2023 and future events.